If you have struggled with spiralling thoughts, worry, and fear, know that you are not alone. Millions of Canadians experience anxiety every year.
The good news? Anxiety is treatable — despite how it can feel when you are in the midst of it. With a holistic approach, anxiety can (and does) go into remission. A comprehensive treatment plan often includes anxiety counselling in Edmonton.
Unfamiliar with counselling? For the uninitiated, even the thought can cause new anxieties. Does it work? How long does it take? We hear these questions a lot, so let's provide some context.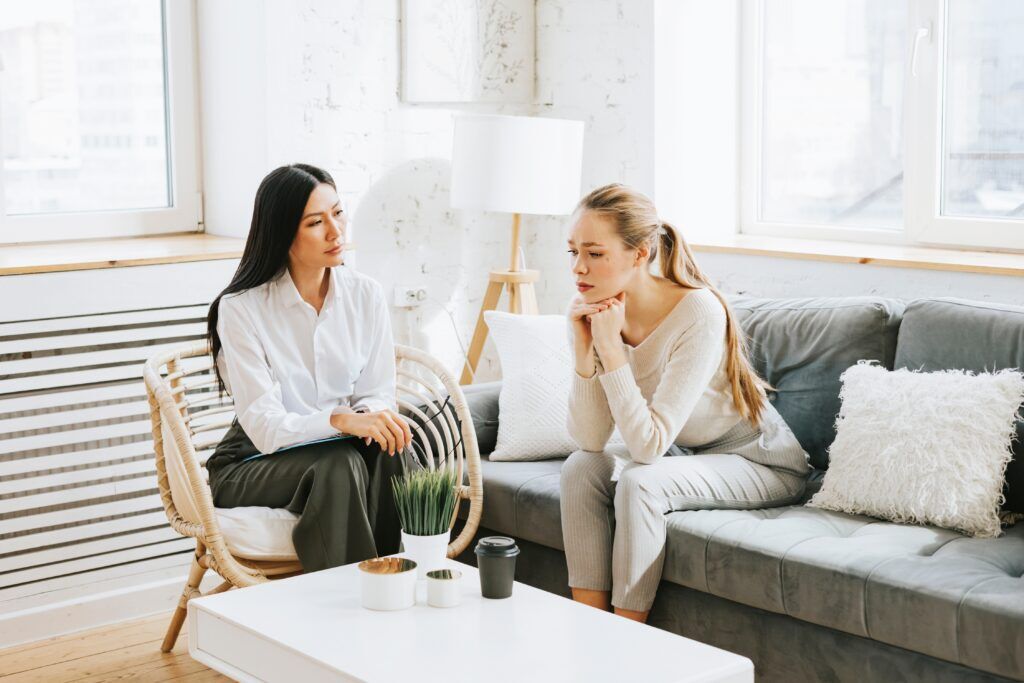 FAQs About Anxiety Counselling in Edmonton
Is there any proof that counselling works for treating anxiety?
There is overwhelming scientific support for anxiety counselling. Study after study has determined that therapy helps reduce symptoms of anxiety long term.
Considering that many anti-anxiety medications aren't recommended for long-term use, counselling is a safe ongoing treatment option to support you on your recovery journey.
How long does anxiety counselling take to work?
Your experience with anxiety is as unique as you are. Your childhood, current life circumstances, relationships, mental health history, and even genetics play into how your anxiety manifests.
So, the short answer is that it depends. Some people need only a few sessions, while others may require more.
But, no matter how many sessions you end up coming to, you'll likely find that even a handful of sessions help reduce the intensity of the experience. You'll also start building a tool kit of skills to help you manage your symptoms in real life.
I'm on anti-anxiety medication. Do I still need anxiety counselling?
There is much to be said about tackling anxiety through a holistic approach, which means looking at the whole picture and finding options to heal the mind, body, and soul.
With anxiety, in particular, there is a lot of research supporting the use of therapy in conjunction with other approaches, including medication.
One recent review confirmed that "concurrent psychotherapy amplifies the benefits of pharmacotherapy." It also found that therapy may help target different symptoms than medications (cognitive versus somatic), increase the capacity to continue treatments, and may even decrease the experience of side effects.
All of which is to say, if you are already taking anxiety medications as prescribed by your doctor, therapy is an invaluable and complementary treatment option.
Does acupuncture work for anxiety?
Keeping the holistic approach in mind, acupuncture offers yet another possible treatment option.
Acupuncture reduces bodily tension and regulates the nervous system, which helps alleviate the physical symptoms of anxiety. It can also help improve restlessness, fatigue, concentration, and muscle tension.
Alongside other strategies, including reiki, counselling, and craniosacral therapy, acupuncture can help manage the many challenging symptoms of anxiety to return your body to a state of calm.
Can I meet you first?
Of course! Getting to know your counsellor before you sit down for your first full session is incredibly valuable. We want to build a safe space for you to share your experiences throughout our practice.
Book a free 15-minute consultation so you can get to know a little about Ikigai Integrative and our approach. We'd love to meet you and answer any questions you might have.
What are your credentials to offer anxiety counselling in Edmonton?
Jason Wu has spent more than eleven years formally studying the human condition and the mind-body dynamic. That includes certification as a registered acupuncturist and a provisional registered psychologist.
As a provisional psychologist, Jason has completed his graduate studies in psychology and is currently in the process of becoming a registered psychologist. As a part of this program, an experienced registered psychologist supervises Jason's sessions.
Beyond education, Jason is a queer biracial (Chinese/Cree) person – Jason has made it his mission to live authentically and to use his own lived experiences to provide compassionate support to his clients as they navigate through their own circumstances.
Conclusion
At Ikigai Integrative, we create a supportive, compassionate, and inclusive environment. Our practice aims to provide comprehensive and personalised support with no matter who you are.
When it comes to anxiety counselling in Edmonton, it is a proven way to reduce stress, worry, and fear. Combined with acupuncture for anxiety, there are even further benefits for reducing bodily tension and physical symptoms.
Counselling, especially when used in conjunction with other approaches like reiki or acupuncture, can help you overcome anxiety once and for all.
Book a free 15-minute consultation today to learn more about Ikigai Integrative and how we can help.
Still, have questions about alternative anxiety treatment options like acupuncture? Here is a little about what you can expect during your first session.
Ikigai Integrative: Edmonton's Acupuncture Experts
As experienced trauma therapists in Edmonton, we seek to ensure patients get the treatment that doesn't just help them today—but into the future.
We take a holistic approach and create highly personalized psychotherapy and acupuncture-focused treatment plans. We work with you to restore the mind-body connection and to give you the tools for long-term recovery.
Want to get in touch with us? Connect with us via Instagram or book an appointment online today!